Regional Organics Composting Facility
What We Heard: Consultation Informs the Design and Operations of the Regional Composting Facility 
Planning is underway for a new regional composting facility at the Campbell River Waste Management Centre and residents were invited to provide their input and learn more about the project throughout January and early February, 2020.
We'd like to thank everyone who participated in our consultation. The information collected has helped Comox Strathcona Waste Management (CSWM) better understand what is important to residents and will be used in the planning of this facility. Residents had the opportunity to complete a survey online and in person, and the community was also invited to provide feedback and meet the project team at two open houses that took place in Campbell River.
A What We Heard report summarizing community input collected during the consultation process has been shared with the Comox Strathcona Waste Management (CSWM) Board and with proponents to inform the facility design and operations. 
Read the What We Heard report here.
Check this page for more information as this project progresses or visit our online engagement page.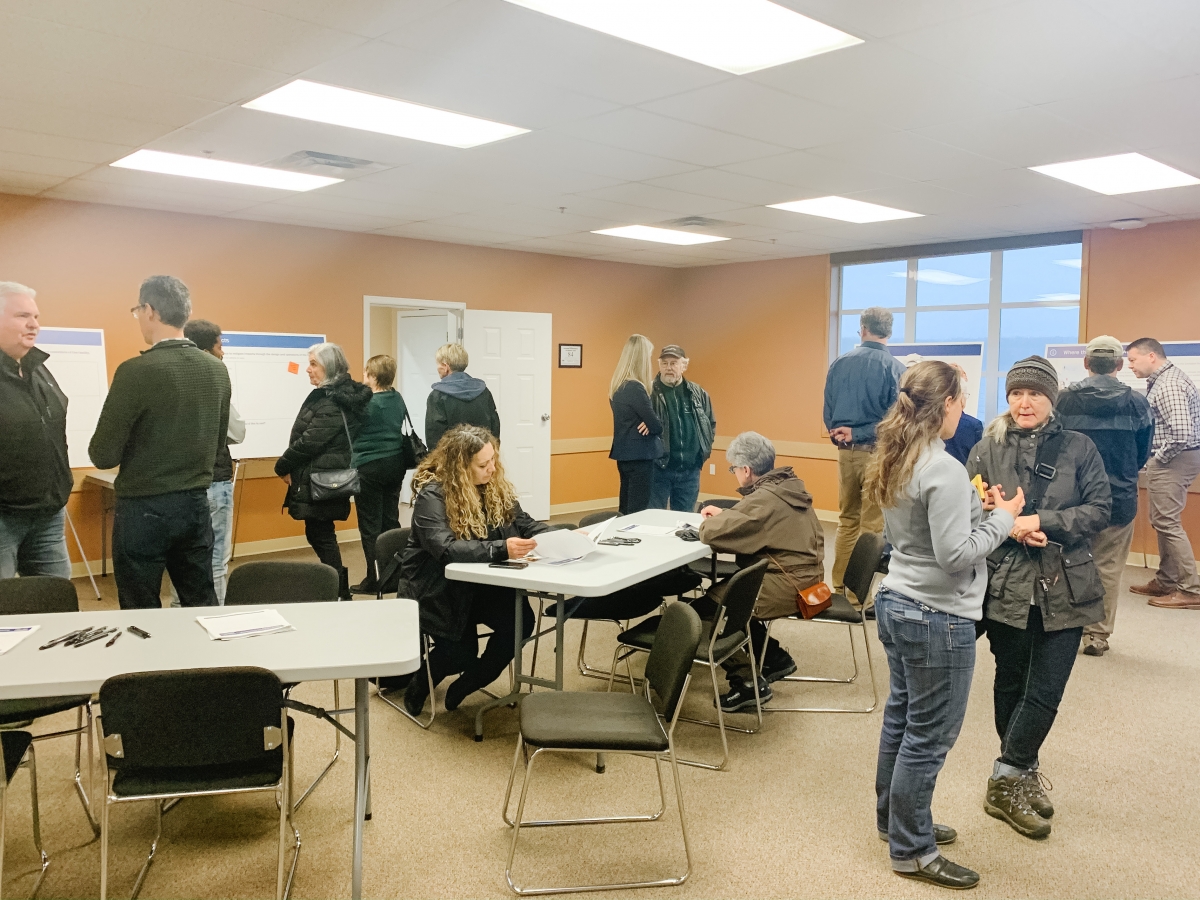 New Regional Organics Composting Facility Will be Fully Operational in 2022
On November 14, 2019, the Comox Strathcona Waste Management (CSWM) Board made the decision to build a regional organics composting facility at the Campbell River Waste Management Centre – Block J (6300 Argonaut Road), with a transfer station to be located at the Comox Valley Waste Management Centre.
This composting facility will be fully operational in fall 2022 and will enable curbside organics collection for over 30,000 single-family dwellings in Campbell River, Comox, Cumberland and Courtenay. This household organic material will be transformed into finished compost for agriculture and landscaping.
Why a Facility is Needed
This project will play a very important role in managing solid waste for our community. Food and yard waste currently makes up about 30 per cent of the total waste that is landfilled within the CSWM service area. Removing organic material from the waste stream will extend the life of our landfills. This will result in a smaller environmental footprint and provide a cost effective approach for handling solid waste for the taxpayers. When buried in a landfill, organic material also produces methane gas, a key contributor to global climate change. Properly composting organic waste is an important step to sustainably manage waste in our region.
The overall project cost estimate is $15.5 million with $6.4 million to be funded by grants and the remaining $9.1 million from by reserves and tipping fees.
Questions or comments?
Tel: 250-334-6016
Toll Free: 1-800-331-6007
The CSWM is committed to designing a state-of-the-art facility that minimizes impacts to our neighbours and the environment. We plan to not only meet stringent environmental and community standards, but also exceed these standards wherever reasonable.
Water use on-site will be managed carefully and will not have an impact on groundwater quality or supplies. There will be no discharge to the environment during the composting process. 
At a composting facility, best practice involves clear separation of areas where leachate is generated and areas where stormwater is collected and drained. Stormwater is all water that drains from structures, covered areas, roads (that are kept clean) and site areas that are not used for waste processing or storage.
Water that comes into contact with organic waste at the facility will be collected and reused as part of the composting process. Excess water will be stored in a sealed tank and trucked offsite for treatment. Clean storm water will be collected in an onsite management pond and re-infiltrated into the ground. 
As part of the operation of the landfill, the CSWM service undertakes an extensive annual water monitoring program. Groundwater monitoring reports are available on the Campbell River Waste Management Centre page.
The successful management of odour is a high priority and a critical component in the design and operations of this facility. To minimize the impact on residents, odours will be managed within our property boundary. The processing of organic waste handling will take place within an enclosed building and air will be treated on site with biofilters. The finished compost would be stored outside and would resemble rich, dark earth.
The facility capacity will be built to meet peak volumes of potential food and yard waste. A purpose-built facility can accommodate anticipated volumes and is critical to minimizing odour impacts. 
Regulations
The BC Ministry of Environment and Climate Change Strategy (MoE) administers and regulates air quality issues, including odour issues, under the authority of the Environmental Management Act [SBC 2003] (EMA). The Organic Matter Recycling Regulation (OMRR) under the EMA, governs production, quality and land application of certain types of organic matter. The EMA and the OMRR are the two primary regulatory documents that govern odour management related to processing organics waste in BC as administered by the MoE.
The new facility will also meet the City of Campbell River Public Nuisance Bylaw Part 8, which references methods for preventing nuisance odours from leaving the premises.
The facility will be located on already disturbed land to avoid disruption to adjacent forested areas, natural habitat and wildlife. A wooded area will be kept around the facility to mitigate visual impacts.
All delivery of compost feedstock and active composting will occur indoors to prevent birds from being attracted to the site. The site will be secured to ensure bears do not frequent the area and become a nuisance to nearby properties.
The daily processing of organic material indoors not only minimizes odours, but also helps to control rodents and pests. Once the material is placed into an active compost pile, temperatures reach between 50-60 degrees celsius for several days. This environment is inhospitable for mammals and prevents their interest in the material. As the material is moved frequently, animals do not have time to establish a refuge.
There are almost no roadway improvements required and traffic impacts will be minimal, as organic waste collection will integrate with the existing garbage collection system. The main access to the site would be from Hwy 28, which will not affect most neighbouring properties on Argonaut Road.
Regional Organics Compost Project - September 2020 Update (September 4, 2020)
Regional Organics Compost Project - March 2020 Update (March 12, 2020)
Regional Organics Compost Project February 2020 Update (February 13, 2020)
Regional Organics Compost Project - November 2019 Update (November 14, 2019)
​Regional Organics Compost Project – September 2019 Update (September 6, 2019)
Regional Organics Compost Project - Procurement Recommendations (September 5, 2019)
Regional Organics Compost Project – April 2019 Update (April 4, 2019)
Regional Organics Composting Project – Anaerobic Digestion  (April 4, 2019)
Regional Organics Compost Project – March 2019 Update (February 28, 2019)
Additional Regional Organics Siting Analysis (February 28, 2019)
Regional Organics Compost Project – Review and Siting (January 31, 2019)